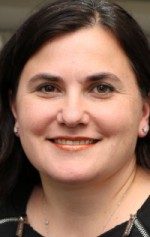 Susan Veenema
Bio:
Susan is part of the Delaware Network for Excellence in Autism (DNEA) at CDS, where she leads professional development and coaching for educators who support individuals on the autism spectrum.
Susan received her autism certification as part of her graduate degree in education. She spent 10 years as a special education teacher, working with students with varied disabilities. After her time in Delaware schools, Susan came to CDS as an instructional coach for the Positive Behavior Support (PBS) Project, conducting trainings on IEP development and social skills programs for adolescents. She then moved to the Delaware Department of Education as an educational associate, focusing on promoting inclusion and giving students with disabilities access to the general curriculum, before returning to CDS.
Away from work, Susan frequently can be found outdoors with her husband, two daughters and German Shorthaired Pointer; exploring what's new in the local art and food scenes; or reading biographies and histories. She lives in Chester County, Pa.