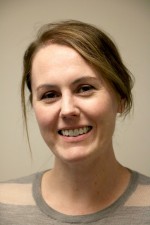 Stephanie Kaznica
Bio:
Stephanie coordinates all aspects of the Leadership Education in Neurodevelopmental Disabilities (LEND) program, an interdisciplinary training initiative in autism and other developmental disabilities for graduate students, postdoctoral fellows, family members and self-advocates.  Additional responsibilities include federal guideline compliance, recruitment and selection of new trainees, and a commitment to maintaining the quality of the program while supporting its growth.
Additionally, Stephanie works to maintain and broaden a strong network of connections between CDS and Nemours/A.I. Dupont Hospital for Children, and between CDS and other UD initiatives, community organizations and other LEND programs at various institutions.
Before coming to CDS, Stephanie enjoyed being a stay-at-home mom to her two children: Ava, who is 4 with an autism spectrum diagnosis, and Cole, 2.  Prior to that, she worked in higher education at West Chester University as a manager of on-campus living/learning communities.  She holds a master's degree in education.
Stephanie spends most of her free time chasing around one of her two children or watching movies with her lazy rescue dog, Oakley.