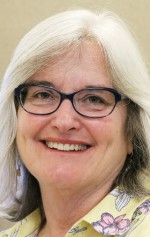 Jane Donovan
Bio:
Jane coordinates the activities of the Health Resources and Services Administration Oral Health Project. More broadly, Jane works to foster collaboration and strong linkages among the education, disability, oral health and research communities to promote the development of public health programs and professional training initiatives.
Jane previously coordinated the activities of the First State Equal Access to Safety Project, focusing on developing technical assistance to create a system in Delaware that is responsive to the needs of persons who are victims of intimate partner violence, including people with disabilities.
Before coming to CDS, Jane worked for many years in Delaware public education and correctional education as a special educator. Her advocacy work included membership on the Governor's Advisory Council for Exceptional Citizens.
When she's not busy gardening, travelling and reading and discussing books, Jane's often romping with her dogs or enjoying the walking trails and activities of her Newark, Del., community.